How to be your own stylist!
Buy Basics that look good on everyone: dark skinny jeans, a white button down shirt, a tailored raincoat, and a great leather jacket!
What is the difference between chambray and denim? There are probably more similarities than differences between the two, but there are some differences. Chambray and denim are types of cloth fabrics. Usually, they are both blue in color on the bolt, but color variations are available in both types. Both are coarse cloths, that is, the threads per inch in the cloths is lower than for finer, higher count fabrics such as percale. Both are made of cotton. Chambray is the lighter of the two fabrics; sort of like muslin. It is also usually light blue in color. Denim is the heavier of the two fabrics; similar to a lightweight canvas. It is usually dark blue - darker than chambray. Chambray is usually used to make long and short sleeved work shirts, while denim is usually used to make work pants or jeans. Denim is also used to make overalls, skirts, jackets, purses, shorts, pillows, and sundry other useful items that require durability from the cloth. Chambray can be used where a lighter fabric is more appropriate.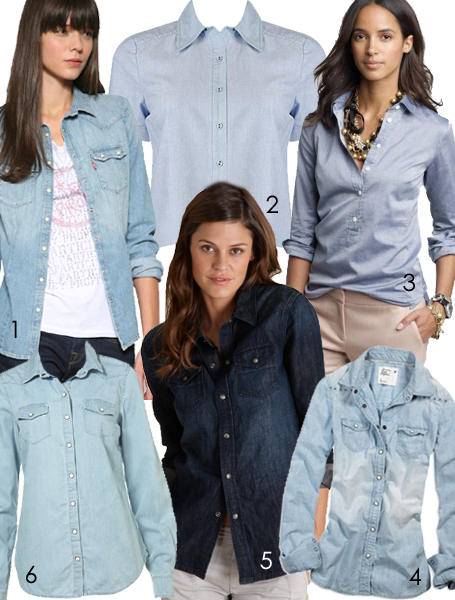 Rihanna's MAC Cosmetics Ri Ri Woo lipstick is now available for purchase! Get it here: http://bit.ly/RiRi_shopnow
I love Mac Cosmetics!
MAC is coming out with a new collection called Archie's Girls.Archie's Girls stems from the comic book darlings Betty and Veronica. They will feature items such as Betty's Lucky in Love Shimmering Light Blue Green pigment and Veronica's Boyfriend Stealer Deep Blackened Plum Lipstick! Too Cute! Ladies, be sure and check it out!
http://www.maccosmetics.com/whats_new/10623/index.tmpl
We all want to look good, but we should SMELL good too!
Other than taking your daily shower, I would suggest that you put on what I like to call some "Smell Good!"
Here are few of my favorite fragrances for women:
Daisy by Marc Jacobs
Light Blue by Dolce and Gabanna
Hearts & Daggers by Ed Hardy
Hippic Chic by True Religion
And.....AXE Body Spray For Women! It's called Anarchy.
Holla! And have a Great DAY!!!
Attire for Church
Sooo....after seeing some folks at church yesterday, I decided to blog about how
you should NOT dress at church! Church is a holy and sacred place.
You should not roll up in church with pink fishnet stockings and a dress that
barely covers your backside! This is CHURCH! Not a HOE Stroll! IJS...
Have a Great MONDAY! Holla!
Expensive Vs Cheap
A lot of the styles I put together have pieces from very well known and expensive designers.
I just told a good friend of mine that we can always find a look that is close to the styles I create, for an affordable price :-)
Don't think you have to spend lots of money to look good. IJS...
Peplums
I just LOVE Peplums! They cover that extra in the midsection you don't want people to see! YAY for Peplums!
Make sure you wear the colors that look good on you. If you are a fair skinned person, beige may now be the color for you! My best friend wouldn't wear anything but beige for years! Even though it didn't look horrible on her, she looked like one beige stick LOL!! She is now experimenting with different colors, to see what works for her. You should do the same!! Holla! ;-)
Lunch Date
This was a question that was posed to me: What would you recommend for a woman to wear on a first casual lunch date? My Answer: I would recommend something simple and cute. A nice top, skinny or straight legged jeans, and some heels to match! Let's not forget the accessories to make the outfit pop! You can also throw a blazer on with it...but it has to be the right blazer. It Must stop at the waist and be form fitting! There you go! Just give them a little sexy on the first date! Holla!
Choosing the Best Color For Your Skin-tone
There are no good or bad colors, just ones that are right for you! You can wear almost any color if you learn to choose the right shade and intensity that will enhance your skin tone. Wearing that perfect color can take years off your appearance and brighten your look. Your best colors will be determined by a combination of factors including your natural hair color, eye color and skin tone. Take a look at the undertone of your skin in natural daylight and this will help you to determine whether you are a "cool" or a "warm" toned person. Cool toned people tend to have a pink or rosy skin tone. Warm toned people will have a more golden or apricot undertone. Cool toned persons will look best in blue-based colors; warm toned persons will look best in yellow-based colors. This season's delectable, bright hues can be added to your wardrobe, just follow these easy suggestions for a fresh new look! Warm tones These can be crisp or muted; they include natural earth colors with gold translucent undertones. Most people with the warm skin tones look great in the new mochas, bronzes, sage greens, and delicious mango oranges. If this is your skin type you may also want to try the softer warm tones of peach or apricot and the new summer yellow and apple greens. If you prefer reds, then look for the clear brick, a dark tomato or the burnt orange hue. Earth greens like olive, moss, or jade enhance the warmer skin tones. This summer you may want to add a few items with the fresh lime, grass or celery greens. Crisp ivory or oyster whites also enhance the warm skin tone type. Colors from camel to warm taupe to bright navy will fit well into your professional wardrobe. Brown in your shoes and gold in your glass frames are part of your ticket for impact! Cool tones These are rich, true colors that have blue undertones. Cool toned people can wear the vivid blue red beautifully; add the rich raspberries, deep emerald greens, royal blue, plums or pure black. The softer pastels from the blue range and rose-based pinks also nicely enhance the cool skin tones. From the green palette choose the emerald and icy greens, as well as the aqua blue green from the very light pastel shades to the deeper tones. The pure white or a soft white looks great with the cool skin tones. Clear lemon yellows and rich colors like ruby and sapphire will sweeten your wardrobe. A key color this season is the aquatic blues and a whole range of tones that evoke the deep ocean hues. Add some of that high voltage pink to sweeten your day! Color can be compelling and daunting, so have some fun and dress up your wardrobe this season!
Written by Ambreen Akhtar From Power to Change Life